Chuck Valence, Broker/Owner
First licensed in 1994, Chuck earned a Bachelor's Degree in Business with a major in Real Estate from the University of Florida ('95). He continually educates himself through professional development courses and continuing education and has earned the following designations:
Certified Distressed Property Expert (CDPE)
Florida Military Specialist (FMS)
Accredited Luxury Home Specialist (ALHS)
REO (Real Estate Owned) Specialist (REO)
Chuck is also a retired U.S. Marine. When you work with him and Valence Realty as your Broker, you have a professional with the highest standards of integrity, ethics, and commitment on your side.
As a Certified Distressed Property Expert (CDPE), Chuck is qualified to help homeowners with homes that are underwater or that they can no longer afford. If you or anyone you know is in this situation, please contact him ASAP…there are alternatives to foreclosure.
In his spare time, Chuck enjoys sports, skiing, scuba-diving, weightlifting, and of course, the Florida Gators.

Cyndy Valence, Broker/Owner
After 23 years of dedicated service as an RN, Cyndy opened Valence Realty Group with her husband and partner, Chuck. She transitioned her compassion and dedication as a nurse, and her knowledge as a native of the Central Florida area, to serve the needs of real estate Buyers and Sellers.
Along with obtaining her real estate license and the National Association of Realtors® ePro® certification, Cyndy earned her Bachelor of Science from the Florida State University (Go Noles!) and specializes in residential sales in Seminole and Orange Counties. She is a member of the National Association of Realtors®, the Florida Association of Realtors® and the Orlando Regional Realtor® Association. She serves as the Marketing and Accounting Manager for Valence Realty Group.
Cyndy's interests include traveling, snow skiing and the Florida State Seminoles. She's a proud parent/step-parent to 4 great kids, her beloved Chihuahua, Spidey, and grey haired tabbies, Rizzo and Frenchy.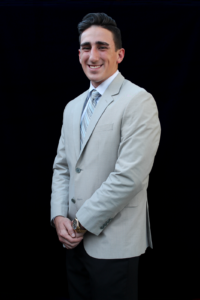 Tyler Valence, Realtor®
As a second-generation Realtor®, we are excited to welcome Tyler to the Valence Realty family. As a social media and technology devotee, along with his passion for the industry and strong work ethic, Tyler's business is built on: Dedication, Communication, Determination, & Trust while embodying the ability to cater and adapt to all of his client's Real Estate needs. We will work closely with Tyler as a seasoned team that will serve our customers through Tyler's connections and our market knowledge and experience.
Tyler is a member of the National Association of Realtors®, the Florida Association of Realtors® and the Orlando Regional Realtor® Association.
Stephanie Doucette, Realtor®
Stephanie has always had a love for real estate, especially in beautiful, sunny Florida. She has an extensive background in marketing and as a small business owner as a professional violinist. She has a passion for providing an exceptional product, helping others and building relationships. Stephanie's attention to detail and personal touch helps her earn and gain the trust and respect of her clients in every aspect of her business. Her unique background and extensive experience in relationship building is leading her to success in this industry to help you with all of your real estate needs.
After she and her husband bought their first home, and have since filled it with the laughter of two sweet children, she's realized that helping others achieve their goals in homeownership is a priority in her life. Stephanie truly treats her clients as if they are her only one, taking great pride in attention to detail, listening to their needs and exceeding their expectations in customer service. Many homeowners have had undesirable real estate experiences, and Stephanie is here to help by creating a wonderful and positive outcome for every single one of her clients.
As your partner for buying or selling a home, you can count on Stephanie for the following:
Trusted resource for answers about the process
Innovative marketing strategies
Expertise about neighborhood features
Ability to target home searches
Strong negotiation skills
Support through the closing and beyond

Nicole Hockemeyer, Realtor®
To know Nicole means knowing that she is dedicated to family and career. She is honest and loves to help people reach their absolute best. This includes her kids, family, friends and community.
Nicole's brings her extensive knowledge in appraisal review and closing document experience from her previous employment which sets her apart from most. This experience, her desire to continue to further educate herself, and her unbridled determination to give her clients the best experience they can while making one of the largest decisions in their lives.
Her life started in Wurzburg, Germany as an Army Brat. She was raised in South Daytona in the house her father and her siblings were raised in. Her life has taken her to various parts of the world and now she calls Winter Springs home.
Nicole is a member of the National Association of Realtors®, the Florida Association of Realtors® and the Orlando Regional Realtor® Association.

Wade Taylor, Realtor®
Wade is excited to be joining forces with the Valence Realty Group based in Maitland, Florida after his 27 year career in Major League Baseball as a front office executive and pitcher for the New York Yankees. His willingness to serve others and his 3 decade knowledge of the Central Florida area will enable both buyers and sellers to achieve their real estate goals with a positive outcome. Wade brings his unique eye for detail and relentless work ethic from professional sports to his clientele that will give them the ability to focus on their buying and selling needs.
The Orlando area has been home for over 35 years and he has witnessed its growth first hand. Wade has settled into the fast growing Oviedo area community with his wife and daughter. His travels during his baseball career along with his passion for meeting different people from all parts of the country combine to give him the ability to understand his customers needs.
He is a member of the following organizations.
National Association of Realtors®
Orlando Regional Association of Realtors®
Florida Association of Realtors®
Stellar MLS®
Wade attended the University of Miami on a baseball scholarship. He also contributed to 6 World Series appearances as a scout for the New York Yankees. In his spare time he enjoys hiking, mountain biking, butterfly gardening and watching his daughter participate in volleyball. Contact Wade today and let him bring you his championship experience to your real estate needs.